Mastro de Paja
Venticinque anni di attività - 1972-1997
Nel 1972 un piccolo numero di appassionati conoscitori di pipe decise di disegnarne alcune e di realizzarle poi con le sue stesse mani. I risultati furono così stimolanti da far proseguire l'interessante ricerca fino all'apertura di una vera e propria attività. Così è nata la Mastro de Paja, nella città di Pesaro. Lavorate esclusivamente a mano, non nascondono segreti che riguardano la lavorazione. La loro qualità e la loro originalità sono dovute soltanto alla mano di artigiani abilissimi e ricchi di esperienza. In occasione della ricorrenza del 25° anno di attività la Mastro de Paja ha creato, in una serie volutamente limitata, una pipa studiata per la qualità delle radiche scelte, impreziosite dalla magia dell'oro adottato per la ghiera e contraddistinte dal sole incastonato nell'imboccatura.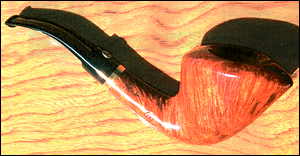 Twenty-five years of activity - 1972-1997
In 1972, a small group of pipe connoisseurs decided to design a few pipes and then bring them to life with their own hands. The results were so intriguing that they were pursued 'til the opening of a true and proper organization. This is how Mastro de Paja was born in the city of Pesaro, Italy. Today, the pipes created in its laboratory are well known throughout the world. They are created exclusively by hand; the workmanship holds no secrets. These beautiful pipes' quality and originally are due solely to the hands of artisans who are skillful and rich in experience. In celebrating its 25th Anniversary, Mastro de Paja has created a limited edition pipe...a pipe admired for the quality of the briars chosen to create it, embellished by the magic of a gold band, and distinguished by the sun emblem on its mouthpiece.
Mastro de Paja snc, via Liguria 30, 61100 Pesaro, tel.0721/410822
---
pipe@alfanet.it